Alternator (12162) fits Case IH fits John Deere fits New Holland fits FIAT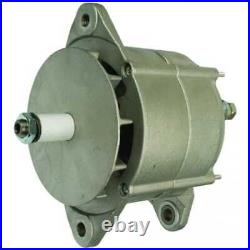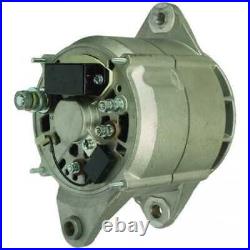 All of our new parts are aftermarket replacements. Compatible with Case IH Tractor(s) MX180, MX200, MX210, MX220, MX230, MX240, MX255, MX270, STX275, STX325, STX375, STX425, STX440, STX450, STX500. Compatible with Case IH Combine(s) 2144, 2166, 2188, 2344, 2366, 2377, 2388, 2577, 2588, 5088, 6088, 7088. Compatible with Case IH Harvester(s) CPX420, 420, 2155, 2555.
Compatible with Case IH Sprayer(s) SPX4260, SPX4410. Replaces Case IH OEM nos 125849A1, 125849A1R, 20-2360T91, 202360T91, 87418225, 87645566, 91448C1, 91448C2. Compatible with John Deere Construction & Industrial(s) 540, 544G, 548E, 640, 640E, 644, 648E, 740.
Replaces John Deere OEM nos AT175839, RE36268, SE501349, TY25956, TY6773, TY6795. Compatible with New Holland Tractor(s) TG210, TG230, TG255, TG285, TJ275, TJ325, TJ375, TJ425, TJ450, TJ500.
Replaces New Holland OEM nos 86994128. Replaces FIAT OEM nos 60557646. Replaces Bosch Mfg nos 0-120-468-055, AL9941X, 0-120-468-028.
Replaces Delco Remy Mfg nos 10459367, 10459498, 10459510. Replaces Mfg nos 12162, 11.204.159, 11.204.361, IA 1058, IA 1169, AAN5138, AAN5155, AAN5318, AAN5502, AAN5819, 220-375. All States Ag Parts Item No. This item is in the category "Business & Industrial\Heavy Equipment, Parts & Attachments\Heavy Equipment Parts & Accessories\Charging & Starting Systems\Electrical Systems". The seller is "tractorpartsasap" and is located in this country: US.
This item can be shipped to United States.
Replaces Case IH OEM #: 125849A1, 125849A1R, 20-2360T91, 202360T91, 87418225, 87645566, 91448C1, 91448C2
Replaces John Deere OEM #: AT175839, RE36268, SE501349, TY25956, TY6773, TY6795
Bosch Mfg #: 0-120-468-055, AL9941X, 0-120-468-028
Delco Remy Mfg #: 10459367, 10459498, 10459510
Replaces New Holland OEM #: 86994128
Replaces FIAT OEM #: 60557646
Mfg #: 12162, 11.204.159, 11.204.361, IA 1058, IA 1169, AAN5138, AAN5155, AAN5318, AAN5502, AAN5819, 220-375
Compatible Equipment Type: Case IH Combine, Case IH Tractor, Case IH Harvester, Case IH Sprayer, John Deere Construction & Industrial, New Holland Tractor
Compatible Equipment Make: Case IH, John Deere, New Holland
Compatible Model: Case IH 2388, Case IH 2366, Case IH 2188, Case IH 2166, Case IH 2344, Case IH 2144, Case IH 2377, Case IH 2588, Case IH 2577, Case IH MX230, Case IH MX210, Case IH MX200, Case IH MX255, Case IH MX220, Case IH MX180, Case IH MX240, Case IH MX270, Case IH 7088, Case IH 5088, Case IH 6088, New Holland TG230, New Holland TG210, New Holland TG255, New Holland TG285, John Deere 644
Additional Compatible Models: John Deere 640, John Deere 740, John Deere 540, Case IH 2555, Case IH STX275, Case IH STX325, Case IH CPX420, Case IH 2155, Case IH 420, Case IH STX375, Case IH STX450, Case IH STX425, Case IH STX500, John Deere 548E, Case IH STX440, John Deere 640E, John Deere 648E, New Holland TJ325, John Deere 544G, New Holland TJ275, New Holland TJ425, New Holland TJ450, New Holland TJ375, New Holland TJ500, Case IH SPX4260
Part Type: Electrical
Brand: Aftermarket part for Case IH
MPN: 125849A1