Bucket Seat Vinyl Black fits John Deere fits Cub Cadet fits Bobcat fits Komatsu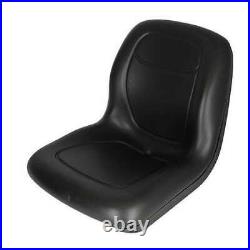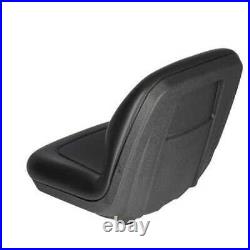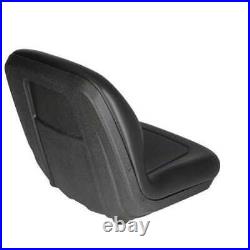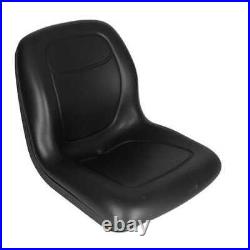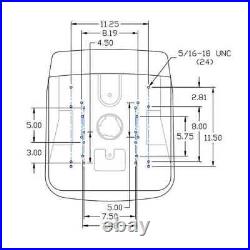 All of our new parts are aftermarket replacements. Compatible with Bobcat UTV(s) 2200 (D), 2200 (s/n 235211001 and A5KR11001 - later). Replaces Bobcat OEM nos 102707301CC, 103267001CC. Compatible with Caterpillar Skid Steer Loader(s) 216, 226, 242, 246. Compatible with Caterpillar Construction & Industrial(s) 301.8.
Compatible with Cub Cadet Lawn & Garden(s) GT2542, GT2544, GT2550, GT2554, Z-Force 44, Z-Force 48, Z-Force 50, Z-Force 60. Compatible with John Deere Tractor(s) 4105, 4200, 4210, 4300, 4310, 4400, 4410, 4500, 4510, 4600, 4610, 4700, 4710. Compatible with John Deere Construction & Industrial(s) 890.
Compatible with John Deere UTV(s) Gator Diesel (s/n 2298-later), Gator HPX4x2, Gator HPX4x4, Gator TH 6x4, Gator Trail, Gator Trail HPX4x4, Gator Turf, Gator TX, Gator TX Turf, Gator Worksite, Gator XUV. Compatible with John Deere Lawn & Garden(s) F725 (s/n 090001-later), F735, G100, L130, LT150, LX266, LX288, X720, X724, Z465, 165, 240, 245, 260, 265, 285, 318, 320, 325 (s/n 70001-later), 345 (s/n 70001-later), 415 (s/n 70001-later), 425 (s/n 70001-later), 445, 455. Compatible with Komatsu Skid Steer Loader(s) CK30-1, CK35-1, SK714-5, SK815, SK815-5, SK815-5N, SK818, SK820, SK820-5, SK820-5N, SK820-5T, SK1020-5, SK1020-5N, SK1020-5T, SK1026, SK1026-5, SK1026-5N.
Compatible with Kubota Lawn & Garden(s) F2880, GF1800, GR2110, TG1860, ZD221, ZD323, ZD326, ZG227. Compatible with Montana Tractor(s) 5720. Compatible with New Holland Tractor(s) T1010, T1030, T1110. Quality made seat suitable for lawn mowers, construction and turf applications. Vacuum formed with centralized drain hole. Durable blow molded plastic frame is corrosion resistant. Seat is 18-3/4" x 19". Uses Standard 5/16 18UNC bolts.
Please Note: This seat takes the Twist in Mount Operator Presence Switch. Please verify that your original operator presence switch is twist in mount.
All States Ag Parts Item No. This item is in the category "Business & Industrial\Heavy Equipment, Parts & Attachments\Heavy Equipment Parts & Accessories\Seats, Components, Cushions & Covers". The seller is "tractorpartsasap" and is located in this country: US. This item can be shipped to United States.
Replaces John Deere OEM #: AM107759, AT63325, AT315073, AT327447, AT344971, GG420-32536, GG420-33192, GG420-33358
Replaces Cub Cadet OEM #: 01004834, 02001943, 2002976, 757-04042, 757-04070
Replaces Bobcat OEM #: 102707301CC, 103267001CC
Compatible Equipment Type: John Deere Tractor, John Deere Lawn & Garden, John Deere Construction & Industrial, John Deere UTV, Cub Cadet Lawn & Garden, Bobcat UTV, Komatsu Skid Steer Loader, Kubota Lawn & Garden, Caterpillar Skid Steer Loader, Caterpillar Construction & Industrial, New Holland Tractor, Montana Tractor, Seats & Cushions Universal Parts
Compatible Equipment Make: John Deere, Cub Cadet, Bobcat, Komatsu, Kubota, Caterpillar, New Holland, Montana, Seats & Cushions
Compatible Model: John Deere 4400, John Deere 320, John Deere 240, John Deere 4700, John Deere 4710, John Deere 260, John Deere 325(s/n 70001-later), John Deere 4500, John Deere 4600, John Deere 4610, John Deere 4510, John Deere 4300, John Deere 4310, John Deere 455, John Deere 4200, John Deere 4410, John Deere 4210, John Deere 890, John Deere 4105, Caterpillar 242, Caterpillar 226, Seats & Cushions Seat Assemblies, John Deere 415(s/n 70001-later), Caterpillar 246, Caterpillar 216
Additional Compatible Models: Seats & Cushions Pan Seats and Cushions, John Deere 165, John Deere 425(s/n 70001-later), John Deere Gator HPX4x4, John Deere 265, John Deere 318, John Deere 445, Kubota ZD326, New Holland T1030, John Deere Gator HPX4x2, New Holland T1110, John Deere 285, John Deere Gator Trail HPX4x4, Komatsu CK30-1, Komatsu SK815-5, Komatsu SK820-5, Kubota ZD323, New Holland T1010, Komatsu CK35-1, John Deere Gator TH 6x4, Komatsu SK1026-5, Komatsu SK1020-5, Komatsu SK714-5, Kubota TG1860, Kubota ZD221
Part Type: Seats / Cushions
Brand: Aftermarket part for John Deere
MPN: AM107759