FITS John Deere 1023e 1025r 2032 & X SERIES Snow Blower Chute Control ROCKER KIT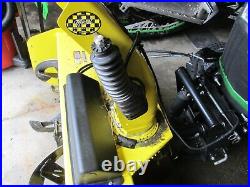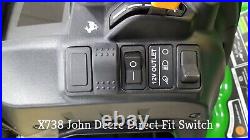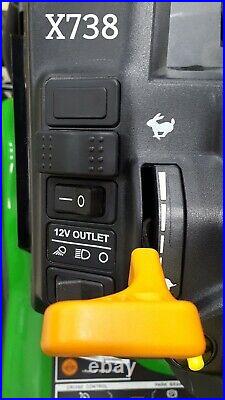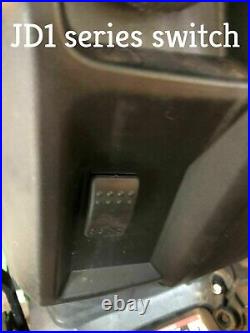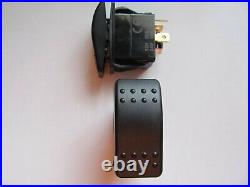 Video will open in a new window. In Business since 1982 Celebrating 41 Years of Excellence. We have 5 different types of pre-wired plug play kits available!
All our pre-wired kits feature factory grade wiring & soldered connections. Inquire we will get you into the correct kit.
FITS ALL John Deere 1&2 series and X series tractors. Bolts right up to existing holes on JD 47" and 54" Blowers.
We were the first to bring these kits to market. Often copied but never surpassed.
Customer Service second to none! Our kits have been featured and reviewed on every tractor forum! Others Claim to have the best kit but only we have the feedback and sales to prove it!
Up for sale is a MERIT AUTOMATION SEVERE WEATHER. PRE WIRED ULTRA MAX ELITE ROCKER HEAVY DUTY ACTUATOR KIT. The Ultra-Max actuator was designed by Merit Automation to be the most robust for use in all types of conditions.
It will keep all types of debris out! Please make sure your tractor has a spare rectangle cutout. This kit will work on any blower system.
Put the snow anywhere you want it and never leave your tractor seat!! This kit features a HD rated cold weather. With chrome push rod, and Swiss made internal limit switches, also featuring a patented end cap, double insulation a MERIT Automation exclusive!
Our actuators are a proprietary build, only available through Merit Automation. We dont sell cheap Chinese actuators. Ours are all hand assembled in house for the highest quality! Plus you get all the hardware needed to mount the actuator to your chute (all stainless).
EASY HOOKUP JUST POP SPARE ROCKER SWITCH COVER OFF AND FEED WIRES THROUGH AND DONE ITS THAT EASY. Also included is my easy mounting template that doesnt require any measurements to be taken on your chute.
Simple wiring diagram is also included. Plus you also get a nice weatherproof spring return momentary switch. Mounting is all stainless as well! You get Merit Automation quality at a economical price!!
Thousands of satisfied customers over the past 8 years! Hat my kit has over the others: Sealed Merit Automation Designed ULTRA-MAX actuator patented end cap and chrome push rod (only available from Merit Automation) with storm ip69 boot included for FREE! Our actuators have metal gears as well, 100% duty cycle. Heavy duty 5/16 stainless mounting bolts. Our design adds little width to your chute.
EZ chute hookup that takes just seconds. Comes with a Weatherproof pre-wired switch with blown fuse indicator.
Bolts to existing JD and Kioti upper and lower Blower holes. Mounts tightly against chute adding little width. WE SERVICE WHAT WE SELL!! Sealed HD Actuator IP69 rated not the lower IP54. With Protective Boot Stainless Push Rod and patented sealing top Merit Exclusive design.
PRE-WIRED large rocker switch with fuse and blown fuse. HD 5/16 Mounting Hardware ALL STAINLESS. 2 Quick disconnects Marine Grade and water proof.
Drill bit for actuator & switch mounting INCLUDED! Plus wire ties and mounts! Weather guard brand wire used with sealed loom. Weather proof fuse holder w blown fuse indicator. Chute guide bushing nut and bolt stainless.
24/7 Tech Support and MORE! Merit Automation Policies & Additional Information. Thousands of customers have chosen us for their automation needs.
We are 100% committed to your complete satisfaction. Most questions are answered within 24 hours (weekends and holidays excluded). THANK YOU FOR CHOOSING MERIT AUTOMATION.