FITS John Deere 1023e 1025r 2032 & X SERIES Snow Blower Chute Control TOGGLE KIT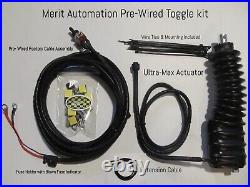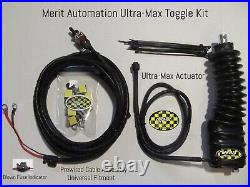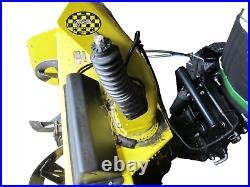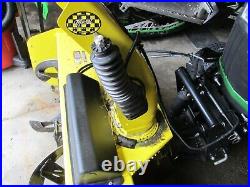 Before bringing our kits to market Merit Automation did 2 years of R&D testing in remote locations. We quickly found out NO. Currently manufactured would withstand these extremes.
This lead us to design our own actuators. These are the most robust rugged actuators made. We also refined our mounting system to be the easiest to use and with stainless steel mounting longest lasting. Our first kits 8 years ago making our kits the longest running kit on the market. With supplies supplied with our kit, you can install our pre-wired toggle kit on any tractor blower system.
If you have a JD 47" or 54" blower its super easy! Just mount to existing holes and done! Dont worry if you have a different brand of blower we supply a EZ to use template. Just put it on your chute and drill the pre marked holes...
Our kits will move your chute from full open to full close and stop anywhere you want it to! Gone are the days of letting the wind determine where you snow goes. Now you can direct it with pin point accuracy all from the comfort of your tractor seat! Double Insulated Prewired Ultra-Max Actuator.
Prewired factory grade toggle switch assembly. HD Mounting Hardware EZ Install All stainless. 2 Low Temperature Waterproof Quick Disconnects prewired.
Weather Proof High Quality Momentary Switch already wired. All Necessary Drill Bits Included. Wire Ties and Mounts 10PCs each.
Low temperature triple insulated wire used. Fuse Holder With Blown Fuse Indicator. Chute Guide Bushing with Glide Washers all Stainless. Misc items for a Long Lasting EZ Install.
Our Kits are crafted to standards well above any commercially kits available. We have many new kits currently being tested and will be released soon. We never rush to market. This way you know you can trust a Merit Automation kit!
Merit Automation has been in the automation business since 1982. Customer service and quality have always been our moto.
We have built automated systems for large corporations and systems for individuals. We are family owned and operated.
We give our customers service they have dreamed of and always wanted from a company. Join our team of thousands of salified customers. Merit Automation Policies & Additional Information. Thousands of customers have chosen us for their automation needs. We are 100% committed to your complete satisfaction. Most questions are answered within 24 hours (weekends and holidays excluded). THANK YOU FOR CHOOSING MERIT AUTOMATION.