Fits John Deere Loader/Backhoe Seat Assembly withArms Black Vinyl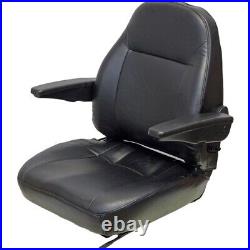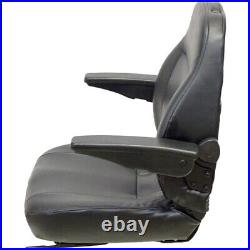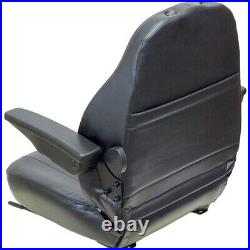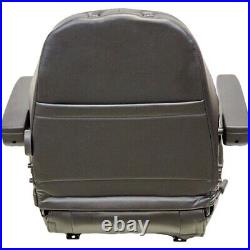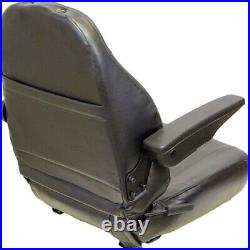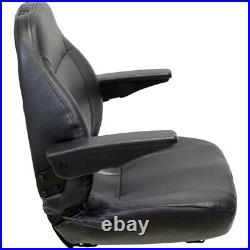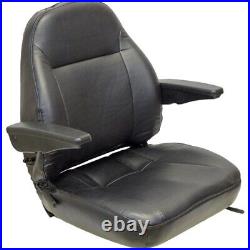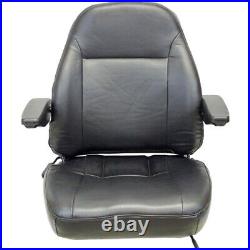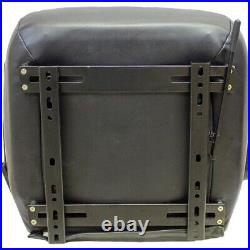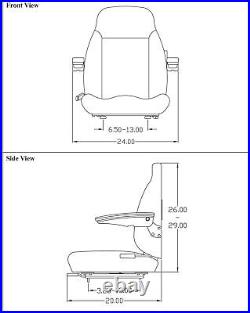 John Deere Aftermarket Seat Assembly w/Arms For Loader/Backhoes. Will Not Fit Any Model Listed If Original Seat Was A Grammer DS44. Will Not Fit If Original Seat Has An Integrated Swivel. Please Verify All Measurements And Model Numbers (The WHOLE Model Number). In Some Cases, Particular Machines Have Multiple Options. It Is Up To You To Decide For Sure If This Item Fits Your Machine. Cut and sew vinyl to create a more rugged, comfortable cover. Adjustable backrest folds forward and reclines.
3-position lumbar support to help prevent lower back pain. Adjustable black Dura-Tex armrests fold up and out of the way allowing for easy access to the seat and offers individual comfort (standard on PNs: 8209, 8384 and 8390 only, optional on PN: 8021).
Durable document pouch stores owner's manual and other valuables. Adjustable slide rails from 6.5" - 13" side-to-side for universal fit.
Accepts flange bolt mount operator presence switch. Black Vinyl with Armrests (PN: 8390).
Gray Vinyl with Armrests (PN: 8384). Yellow Vinyl with Armrests (PN: 8209). Seat Belt Bracket Kit Necessary with Part Number: 7911 (PN: 6002). Lap Belt Kit (PN: 7911). Operator Presence Switch - Normally Open (PN: 8665). Replacement Armrest Kit (PN: 8025). Replacement Adjustable Slide Rail Kit (PN: 8453). F its John Deere® Loader/Backhoes: 210C, 300D, 310C, 310D, 410B, 410C, 410D, 510B, 510C, 510D, 610B, 610C, 710B, 710C, 710D.
Replaces John Deere® Part Numbers: AT39617, AT105140.