Radiator AL66766 fits John Deere 2955 3050 3055 3155 3255 3350 3650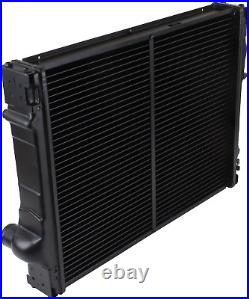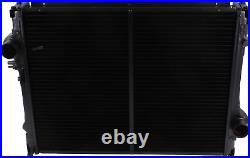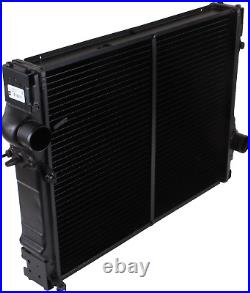 John Deere - 2955, 3050, 3055, 3155, 3255, 3350, 3650. Replace your tractor's cooling system with our high-performance Tractor Radiator. Designed to deliver exceptional cooling efficiency and reliability, this radiator is the perfect solution to keep your engine running smoothly even in the toughest working conditions. Enhanced Cooling: Our radiator is engineered to provide superior heat dissipation, ensuring optimal operating temperatures for your tractor's engine. No more worries about overheating during those long hours in the field. Durable Build: Crafted from premium-grade materials, this radiator is built to withstand the rigors of agricultural tasks. Its robust construction guarantees longevity and dependable performance season after season. Precision Fit: Designed to seamlessly integrate with a wide range of tractor models, our radiator offers a precise fit without the need for extensive modifications.
Installation is hassle-free, saving you valuable time and effort. Corrosion Resistance: The radiator's corrosion-resistant coating protects it from rust and other environmental elements. This ensures not only a longer lifespan but also helps maintain the radiator's efficiency over time. Effortless Maintenance: Cleaning and maintaining the radiator is a breeze, thanks to its accessible design. Keep your cooling system at its best with minimal effort and maximize your tractor's overall lifespan.
Optimized Airflow: The radiator's innovative design optimizes airflow to enhance cooling performance. This design consideration minimizes the risk of hotspots and guarantees even cooling across the entire engine. Versatile Compatibility: Whether you're operating a compact utility tractor or a heavy-duty agricultural behemoth, our radiator fits a wide array of tractor models. Its versatility ensures that you'll find the perfect fit for your specific needs. Don't let overheating slow you down - equip your tractor with the Heavy-Duty Tractor Radiator and experience uninterrupted productivity. Invest in a cooling solution that's engineered to handle the demands of your toughest tasks. Add our top-notch radiator to your cart today and keep your tractor's engine running at its best! FITMENT; John Deere 2955, 3050, 3055, 3155, 3255, 3350, 3650. Don't just take our word for it! Part fit like a glove! Picture and description of part was spot on! Item was exactly what i was needing! It arrived before the date i was given. Would do business with them again. Very good quality at competitive price. Expect the best, from people who care. If it doesn't arrive how you like it, let us know! Shop now and get back to work in no time. We believe in treating our customers like family. We're committed to providing exceptional service and support, going the extra mile to ensure your satisfaction. Trust us for products from the most popular OEM manufacturers.
Radiator NCA8005C fits Ford New Holland 800 Series 871 900 Series NAA.