Stone Guard fits New Holland 462 442 452 fits Kuhn fits John Deere 260 270 240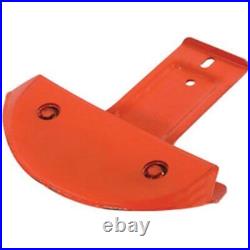 All of our new parts are aftermarket replacements. Compatible with John Deere Hay Cutting(s) 240 (2nd, 3rd, & 4th disc), 260 (2nd, 3rd, 4th, 5th, & 6th disc), 270. Replaces John Deere OEM nos EB56190600.
Compatible with Kuhn Hay Cutting(s) GMD44, GMD55 (s/n 780101-later), GMD66, GMD66HD, GMD77HD. Replaces Kuhn OEM nos 56190600.
Compatible with New Holland Hay Cutting(s) 442, 452, 462, 463, 465. Replaces New Holland OEM nos 781809.
All States Ag Parts Item No.