Titan Attachments Replacement Cylinder for Titan Grapple Bucket Fits John Deere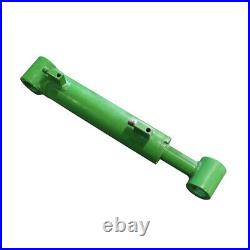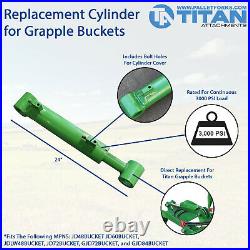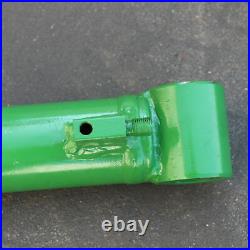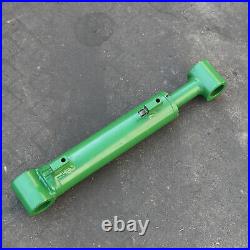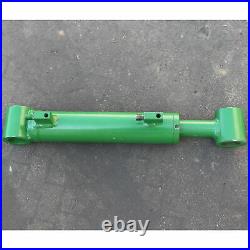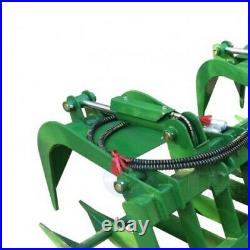 Titan Attachments Replacement Cylinder for Titan Grapple Bucket Fits John Deere. Designed as a direct replacement, simply remove your disabled cylinder from your hydraulic grapple bucket and install this replacement hydraulic cylinder in its place using the same pins. These cylinders still offer the same 3,000 PSI that came with your green Titan grapple bucket originally, making sure you still have the same performance you know and love.
DIRECT REPLACEMENT CYLINDER: This hydraulic cylinder is a direct replacement to the Titan Attachments Hydraulic Grapple Buckets line that are designed to fit John Deere tractors equipped with the Hook and Pin system. RATED FOR 3,000 PSI: This replacement cylinder is tested and rated for continuous loads of 3,000 PSI, giving you the same performance you have enjoyed with your current cylinders. SAME BORE AND STROKE: The green replacement cylinder for your hydraulic grapple bucket offers the same bore and stroke as the original. No modifications or adjustments to your grapple are needed.
DESIGNED TO REPLACE TITAN GRAPPLE BUCKETS: The green replacement hydraulic cylinder is designed to fit directly to the following grapple buckets: JD48BUCKET, JD60BUCKET, JD72BUCKET, JD84BUCKET, JDLW48BUCKET, JDLW60BUCKET, JDLW72BUCKET, GJD72BUCKET, and GJD84BUCKET. Features: - Rated to handle a continuous load of 3,000 PSI.
Direct replacement for your Titan Grapple Bucket Cylinder. Simply remove old cylinder and replace using the same pins and brackets. Same Bore and Stroke as original cylinder. Set of (5) 23WTL Twin Tiger Tooth Bucket Assembly w/ Shank & T23 Flex Pin. Set of (5) 23WTL Bucket Twin Tiger Tooth Assembly w/ 23TFP Flex Pin. Titan Attachments Fronthoe Bucket 10 3 Replaceable Teeth Drainage Holes. Set of (3) 23WTL Bucket Twin Tiger Tooth Assembly w/ 23TFP Flex Pin. When it comes to our company culture at Titan Brands, we've always followed one simple rule: provide our customers with the absolute highest quality of customer service that we can. Titan Brands got started by building up a hard-earned reputation, based around making sure that each customer will leave satisfied enough with their experience that they'll want to spread the news to friends and family by word of mouth. We remain fully committed to not losing sight of that reputation, and our team is always willing to accept the challenge of making sure that you not only walk away from your shopping experience satisfied, but that you'll look forward to coming back in the future. The Titan team believes that providing you with an exceptional level of communication and service regarding your order is just as important as providing you with the equipment and supplies you need.
Our full-time teams of sales, support, and customer service representatives work in-house and around the clock to ensure that you won't have to worry about any aspects of your order once they're in our hands. Simply place your order, and leave the hard parts to us; it's our job. We pride ourselves on providing a fully-featured, in-house customer experience from start to finish. In other words, we don't pass the buck once your order has been placed.
That way, if there are any questions or concerns you might have about your order, our team is always a stone's throw away and able to quickly help. We're always happy to answer any questions that you might have!
As part of its evaluation of any claim, Titan may request that additional information be provided and/or may also request an inspection of the Product. Absent any agreement made in advance of any third party undertaking any work to repair any Product, Titan will not be responsible for any such expenses or costs. Accident, damage, negligence, abuse or misuse. Improper assembly, installation and/or maintenance (if applicable).
A purpose or application in any way different from that for which it was designed. Dispute Resolution by Binding Arbitration.
The parties agree that arbitration shall be conducted pursuant to the provisions of the Federal Arbitration Act, 9 U. And administered under the Commercial Dispute Resolution Procedures established by the American Arbitration Association (AAA).
The parties agree that should a dispute arise regarding the scope of this arbitration provision, the question of scope shall be delegated to the arbitrator(s) for determination. The arbitration proceedings and results are to remain confidential and are not to be disclosed without the written agreement of all parties, except to the extent necessary to effectuate the decision or award of the arbitrator(s) or as otherwise required by law. Feel confident knowing you can return an item for any reason up to 30 days after it has been delivered!
If you receive a product and need support understanding its use or need support troubleshooting any issues you are experiencing, please reach out to us to ask questions or have us review videos or photos of your concerns. We will be more than happy to help! How long will it take until I receive my order.
Many items are delivered in 3 days and most are delivered in 2 days, thanks to our warehouses in Fresno, California, Memphis, Tennessee and Horn Lake, Mississippi. What if I need my order sooner. The item "Titan Attachments Replacement Cylinder for Titan Grapple Bucket Fits John Deere" is in sale since Friday, September 27, 2019. This item is in the category "Business & Industrial\Hydraulics, Pneumatics, Pumps & Plumbing\Hydraulic & Pneumatic Cylinders".
The seller is "titanattachments" and is located in Collierville, Tennessee. This item can be shipped to United States.
SKU: 114255
UPC: 840009206283
Brand: Titan Distributors Inc.
MPN: JDRTGPCYL
Item Length: 24 in
Item Height: 5 in
Item Width: 5 in